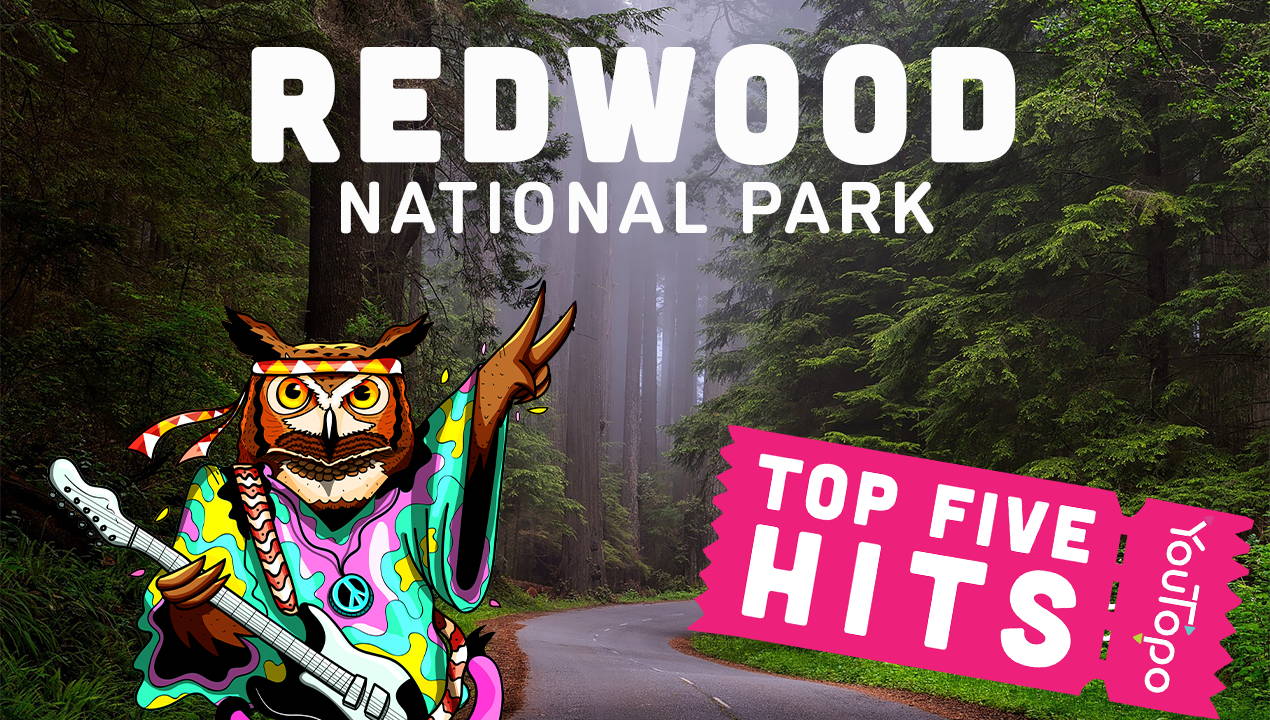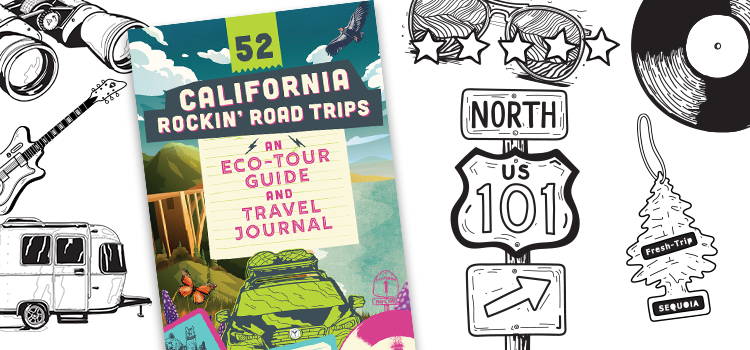 It's like Stairway to Heaven for people who love travel, art, nature, music, and getting outside for sweet adventures. Not much is better than an epic roadtrip and we've got just the ticket to get you ready.

---
Top 5 Hits for Family Adventures
See some of the tallest trees in the park on the Cathedral Trees Trail, 3 mile out and back (Prairie Creek SP)

Hike the Revelation Sensory Trail, .25 mile loop (Prairie Creek SP)

Measure a redwood near the open field by Prairie Creek Visitor center

Hike the Ladybird Johnson loop, 1.4 mile loop (Redwoods NP)

Keep an eye out for Roosevelt Elk at the Elk Meadow (Prairie Creek SP)
Season: Spring or summer (to see elk calves)
Difficulty: Easy
Time Needed: 1-2 days
Cost: No day use fee, nearby state parks $8 day use

Take your time on the Revelation Sensory Trail. It's a great place to touch, smell, listen, see, and even taste the forest.

Another great place to see Roosevelt Elk is in the fields next to Elk Country Campground

Picnic or take a drive along Newton B Drury Scenic Parkway to take a break from hiking.

The tallest tree in the world is the Hyperion Tree, it's location is a secret so you won't be able to see it, but it is about 380 ft tall, compare its height to the redwood you choose to measure as part of the learning activity.

Redwoods NP and Prairie Creek Redwoods SP are right next to each other, so some of their trails go into both parks or are right on the boundary. The Prairie Creek SP area has shorter trails that are easier for children.

Fern canyon and Trillium falls are also must see locations in Prairie creek SP, they are so amazing Youtopo made a learning lesson and activity just for them.
---
At over 300 feet tall, redwoods are the giants of the forest. These remarkable trees can live to be over 2000 years old--that means some of the trees you pass by were first growing during the time of ancient Rome! Though they are huge and strong, redwoods have shallow root systems, making them vulnerable to being knocked over by strong winds. That's why they grow together in groves, like those of Redwoods National Park.
These groves were in danger in the 1800s, as settlers making their way west cut many down in logging operations. By 1850, roughly 90% of the two million acres of coastal redwoods had been destroyed. The Save the Redwoods League intervened in the 1920s, creating three Northern California state parks: Prairie Creek Redwoods, Jedediah Smith Redwoods, and Del Norte Coast Redwoods. Today, Redwoods National Park works with these state parks to protect the giant trees and the lands around them, including prairies, beaches, and forests.
This protection is important not only to the health of the trees and the local environments, but for the whole world. You may have heard the terms "greenhouse gas" and "carbon dioxide" (CO2). When these gases are released into the atmosphere, they trap heat, causing our planet's climate to change. Human activity is causing high amounts of greenhouse gases to be released--more than the planet can handle. Trees can help by capturing this CO2 out of the air and storing it inside themselves. The size and old ages of redwoods help them to be greenhouse gas sponges, making them great for helping combat climate change.
---
Color & Discover Coloring Book Collection
These are so much more than your average coloring book. Each page includes detailed hand drawn illustrations of landscapes, plants, and animals. They're also full of fun facts so that you can learn about everything you color. Great for adults and kids that love to geek out on nature or just relax doing something fun.