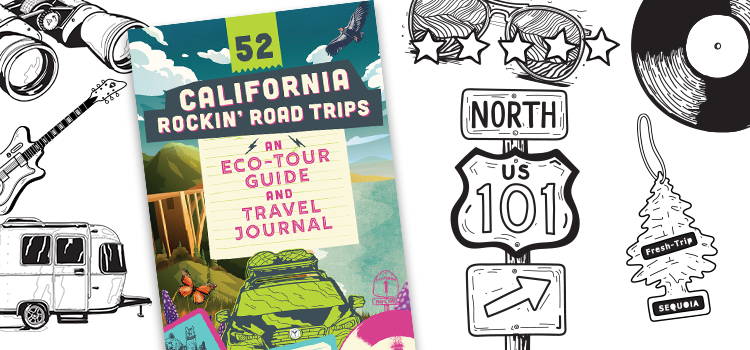 It's like Stairway to Heaven for people who love travel, art, nature, music, and getting outside for sweet adventures. Not much is better than an epic roadtrip and we've got just the ticket to get you ready.

---
Top 5 Hits for Family Adventures
HikeThe Slot.

Hike Cactus Loop Trail.

Drive to see all the sculptures (the Serpent "Dragon" is my favorite).

See the wildflower superbloom. This doesn't happen every year; call ahead and visit in the spring.

Take in the view at Fonts Point.
Season:

Mid-March to mid-May is the best time to see wildflowers (check the park website to see if there is a bloom this year)

Difficulty:

Easy--longest hike is about one mile

Time Needed:

Day trip

Cost: $10 Visitor Center parking or FREE with a CA State Parks Pass.

Go to The Slot early in the day to beat the crowds and heat of the day.

Four-wheel drive and high clearance is needed on dirt roads, especially the road to the oases.

Bring lots of water, food, and snacks; there are not many places to eat in Borrego Springs.

Call the Wildflower Hotline to ask about this year's wildflower updates. (760) 767-4684

Fill the gas tank before entering the park. Gas is pricey in Borrego Springs.
The word Anza in Anza Borrego came from the Spanish explorer Juan Bautisa de Anza, who explored the area in 1774. The Spanish word borrego means lamb, but it is also used to describe the desert bighorn sheep that can be found in this area.
For about 6,000 years, the Cahuilla, Cupeno, and Kumeyaay Native American lived in Anza Borrego. Very little is known about them, but archaeologists have discovered that they did not use pottery or bows and arrows. Instead they used underground, rock-lined storage cysts to store food and they hunted with spears. These early people were also Nomadic and followed the food availability brought on by the seasons. Many archaeological sites with pictographs (rock paintings), petroglyphs (rock etchings), and mortars (grinding stones) have been found throughout Anza Borrego. These sites are protected, and their locations are not shared with the public as a measure to preserve them.
Anza Borrego is located near the town of Borrego Springs. There are many fun recreational opportunities in this area, such as hiking, slot canyon exploration, and four-wheeling, along with the chance to see giant sculptures and desert plants (including spectacular springtime wildflower blooms).
Because Anza Borrego is part of the Colorado Desert, many desert plants can be seen here year-round. Near The Slot you can find ten to 15-foot tall ocotillo and fragrant creosote bushes. There is also an inspiring cactus loop trail full of different types of cacti, succulents and other desert plant life. If you go in the spring, you can even see them flowering!
---
Color & Discover Coloring Book Collection
These are so much more than your average coloring book. Each page includes detailed hand drawn illustrations of landscapes, plants, and animals. They're also full of fun facts so that you can learn about everything you color. Great for adults and kids that love to geek out on nature or just relax doing something fun.