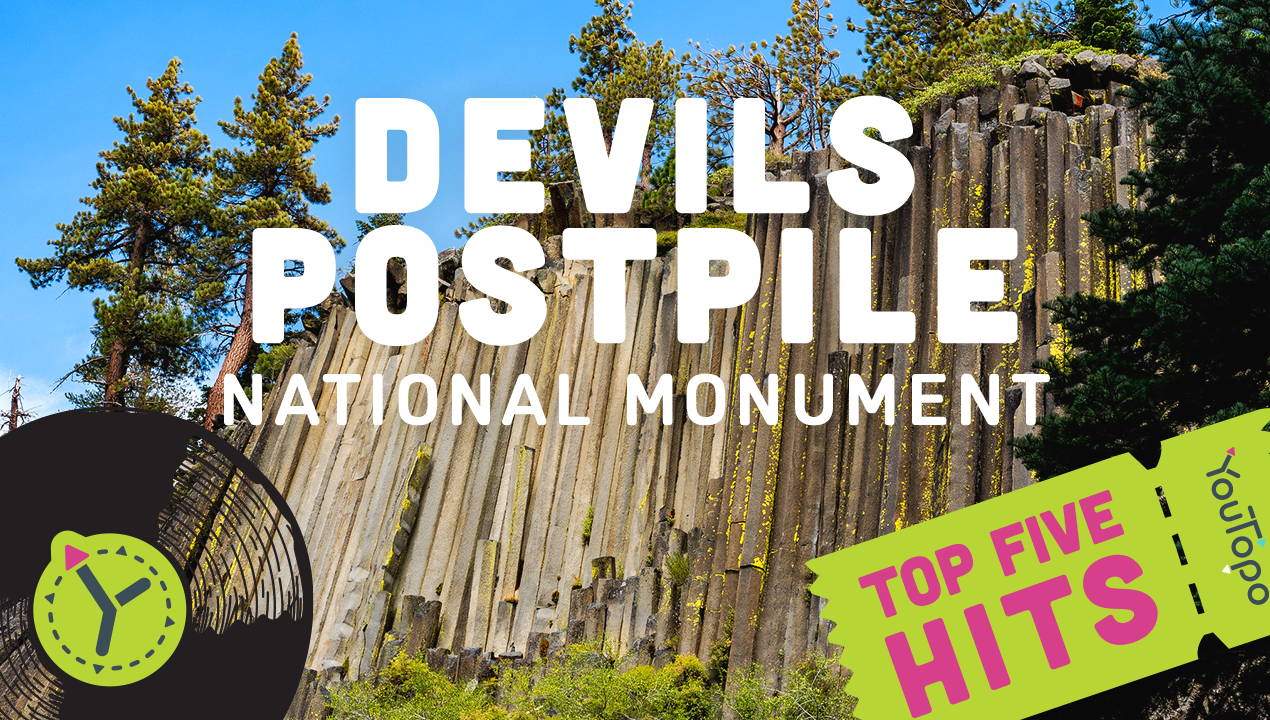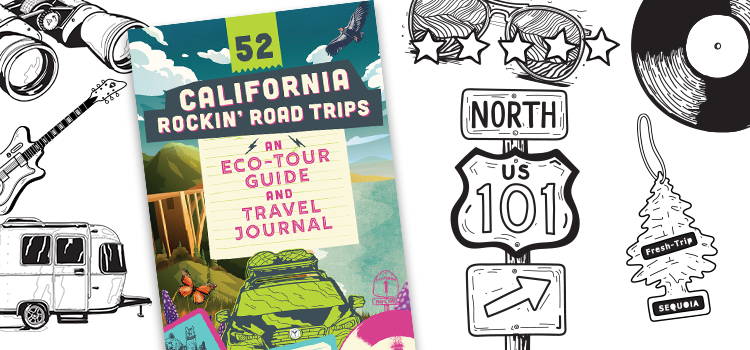 It's like Stairway to Heaven for people who love travel, art, nature, music, and getting outside for sweet adventures. Not much is better than an epic roadtrip and we've got just the ticket to get you ready.

---
Top 5 Hits for Family Adventures
Admire Devil's Postpile, .8 mile (check out the formation from above and below)

Hike Rainbow Falls,

from the trail head (shuttle stop #9). 1.4 miles to the falls 2.8 mile round trip

Swim in the pool and river at the base of rainbow falls

Walk the Sotcher Lake Nature Trail, 1.2 mile trail going around the left side of the lake. The full loop takes you up a tall hill. Just walk the part by the lake.

Swim or play in the water at Sotcher Lake to cool off after all your hiking.
Season: Only open from about July- mid Oct. (changes every year according to snowfall)

https://www.nps.gov/depo/planyourvisit/basicinfo.htm

check for yearly park opening date

Difficulty: easy-moderate

Time Needed: Daytrip

Cost: Shuttle- $15 Adult, $7 child ages 3-15, 2 and under free, Parking free

You Must get shuttle tickets to get to Devils Postpile from park opening to mid Sept, it is possible to drive to Devils Postpile Mid Sept.-Mid oct. (park closing)

Can brings dogs on a leash as long as they wear a muzzle on the shuttle

Pack plenty of snacks and a picnic lunch to take with you. Your shuttle ticket expires when you return to the Mammoth parking lot or Lodge area.

There is a snack shop at shuttle stop #9 if you need more food, bathrooms, and a water refill spicket to refill water bottles. Shuttle stop #8 also has a water refill area and a ranger station with maps and junior ranger booklets.

There are 2 ways to reach Rainbow falls, 1) hike the 2 mile trail starting at the Devils Postpile Formation, or 2) hike 1.4 miles from Shuttle stop #9

Sotcher Lake has small sand areas that give you access for swimming in the lake. There is pumice (volcanic rock) along the trail, pick some up and throw it in the lake. See what happens…(it floats!) Swim out to get it. Make it a game.
The story of Devils Postpile began between 80,000 and 100,000 years ago, in an age where Earth was home to animals such as neanderthals and giant sloths. This particular site was also home to lava--lots and lots of it. The lava that spewed from the Sierra Nevadas was particularly hot, with high iron and magnesium content (basaltic lava), which made it thin and runny. A river of it flowed down the Reds Meadow Valley, destroying everything in its path--everything, that is, except for a natural dam (likely made from rock left behind by an ancient glacier). When this lava river reached the natural dam, it pooled into an enormous lava lake. In some areas, this lake was 400 feet deep! Eventually, the lava cooled. When lava cools, it contracts, or shrinks. This shrinking caused the newly formed rock to crack into the beautifully shaped columns we can see today. Look for shapes--many of these columns are hexagonal (six sides), but some have three, four, five, or seven sides. These 60-foot columns would have been hidden today if it weren't for prehistoric glaciers, which carved out and polished this massive "lake" of basalt igneous rock and made it visible from the side.
You can thank Californian naturalists such as John Muir for your visit to Devils Postpile. In the early 1900s, developers had plans to build a hydroelectric dam in the area, blasting Devils Postpile in the process. Luckily, then-president William Howard Taft decided to protect these impressive and rare rock formations instead.
---
Color & Discover Coloring Book Collection
These are so much more than your average coloring book. Each page includes detailed hand drawn illustrations of landscapes, plants, and animals. They're also full of fun facts so that you can learn about everything you color. Great for adults and kids that love to geek out on nature or just relax doing something fun.