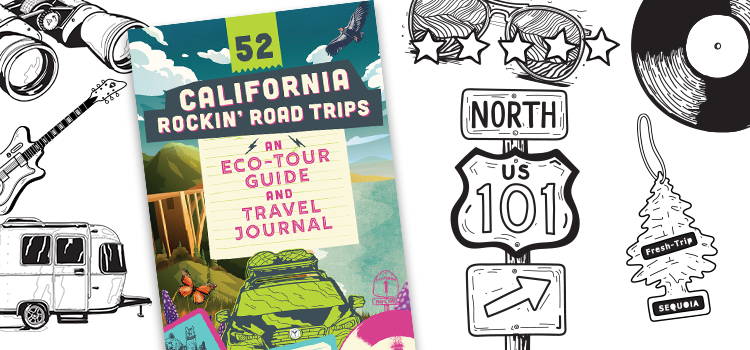 It's like Stairway to Heaven for people who love travel, art, nature, music, and getting outside for sweet adventures. Not much is better than an epic roadtrip and we've got just the ticket to get you ready.

---
Top 5 Hits for Family Adventures
Hike the Andreas Canyon Loop.

Splash in the oasis, or sit on a large rock by the water and sketch.

Attend a free Ranger Talk or Interpretive Hike.

Look at the palm frond huts and grinding mortars at the bottom of the hill near the start of the Palm Canyon hike.

Hike to the Seven Sisters Waterfall in Murray Canyon (4.7 miles). Hike in and out on the same trail for a shorter hike (about 4 miles round trip).
Season:

Fall - spring

Difficulty:

Andreas Canyon-easy 1.2 mile loop with a 200-foot elevation gain; Murray Canyon-moderate, four mile round trip to a waterfall with 450 feet of elevation gain

Time needed:

Day trip

Indian Canyons has a per-person fee to enter, but it's worth it.

Tahquitz Canyon has a separate entrance fee if you decide to go as well.

Other oases such as Coachella Preserve are free.

Take extra water--you are in the desert.

Go early in the day before it's hot and take lunch with you.

Do not go into the dead palm fronds, even when they look like caves or huts-- insects, bees, or small rodents can fall on you.

As you hike, look for where the water comes out of the ground. Places where water seeps out of the ground are springs.
An oasis is more than just water in the desert. It is the fertile area of land, full of life, that this water creates. Oases are important because they provide essential food and water for plants and animals.Throughout history, oases have served as places for travelers to rest and replenish food and water supplies. Some oases are also used as water sources for cities and agriculture.
The oases of Indian Canyons in Palm Springs have served as home to the Agua Caliente band of Cahuilla Indians for thousands of years. The area provided them with abundant water so they were able to build complex communities with irrigation ditches, water reservoirs, dams and agriculture. They planted crops such as melons, beans, squash, and corn. Today, these beautiful, life-giving oases are listed on the National Register of Historic Places, preserving them for their historical significance.
There are several different oases in the Palm Springs area, but they are all fed by the same water supply: the Coachella Valley Aqueduct. This aqueduct, which serves all of the people and animals in Coachella Valley, is about 122 miles long. Coachella Valley is in a desert, and it doesn't receive enough rain to replenish the amount of water used by its people. Instead, it is supplemented by water from the Colorado River Aqueduct, which fills the recharge ponds at Whitewater Preserve and Mission Creek that then replenishes the Coachella Valley Aqueduct. Together, these aqueducts sustain life across the valley.
---
Color & Discover Coloring Book Collection
These are so much more than your average coloring book. Each page includes detailed hand drawn illustrations of landscapes, plants, and animals. They're also full of fun facts so that you can learn about everything you color. Great for adults and kids that love to geek out on nature or just relax doing something fun.