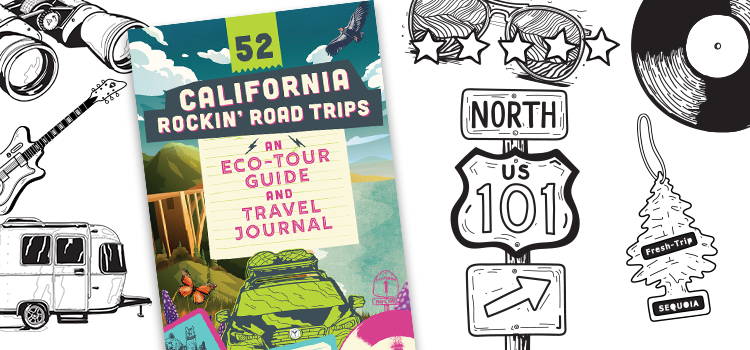 It's like Stairway to Heaven for people who love travel, art, nature, music, and getting outside for sweet adventures. Not much is better than an epic roadtrip and we've got just the ticket to get you ready.

---
Top 5 Hits for Family Adventures
Climb the ladders in Ladder Canyon.

Enjoy the view above Ladder Canyon.

Find quartz in Big Painted Canyon.

Look at the many colored rocks in Big Painted Canyon, including zebra stripes!

Descend the ropes near the end of Big Painted Canyon (not too steep for kids).
Season:

October to April, when temperatures aren't so hot

Difficulty:

Moderate 4.5 mile loop, 967-foot elevation gain

Time Needed:

three to four-hour hike with kids

Cost:

Free

Hike the trail clockwise so that you are climbing up the ladders to the ridge instead of coming down them.

When you get to the top of Ladder Canyon, always stay on the trails that go to the right or straight. They will lead you down into Big Painted Canyon. Do not go left! It will take you on a long hike in the sun followed by a steep rope descent into another small slot canyon (not safe for little kids).

Rock arrows made by volunteers will guide you clockwise and through the hike.

Hike starts by hiking through a box canyon for .25 miles. The entrance to Ladder Canyon will be on your left and looks like a rock pile blocking the canyon. Don't be fooled; go in!

Bring a four-wheel drive vehicle. Don't drive into the sand and park on a rocky area or you could get stuck.

Don't leave valuables in your car--break-ins have been reported at the trailhead.

Do not go after it rains as roads will be bad and flash floods may occur.

You must be able to climb ladders to do this hike.

Download the AllTrails trail map before you go (there is poor to no cell reception on hike).

Bring lots of water and snacks! Plan for about four hours.
Mecca Ladder Canyon Hike is located in the heart of the Mecca Hills Wilderness Area on the active San Andreas Fault. The Mecca Hills were formed by the convergence (coming together) of the continental North American Plate and the oceanic Pacific Plate. The uplift of the continental plate has left raised sandstone layers of pink, red, purple, brown, and green mineral deposits that can be seen in Big Painted Canyon. Hiking through Ladder Canyon and Painted Canyon offers a slot canyon experience, stunning views, and the opportunity to see Painted Canyon and all its color!
As its name implies, the ladders of Ladder Canyon make this hike unique. Tucked into a beautiful slot canyon, they allow you to climb up dry waterfalls. Don't let the trailhead fool you, your ladder hike begins by scrambling up a small rock fall to the left of the main trail that leads you into a slot canyon. The trail is sandy and requires good hiking shoes and the ability to climb ladders. This is a fun area for the kids to explore and wander. The high walls and windy turns make this section of the hike exciting, and it will seem to go by quickly. The full loop is about 4.9 miles, so you'll need to bring snacks and plenty of water. You are also hiking in the desert, so plan for the hot weather and don't hike this area after it has been raining. Flash floods can damage the trails and ladders.
As you explore the slot canyon you will notice its smooth, rounded curves and surfaces. This was carved by water in a process called mechanical weathering. Yes, this area is desert, but even deserts get rainfall. Most slot canyons start as a small creek or a path for runoff. Over many years, runoff from storms miles away will rush quickly through the creek, carving the path deeper into the earth. The path becomes a trench as the flooding water continues to surge after every spring melt or summer thunderstorm. Eventually, it can become a slot canyon just like Ladder Canyon.
---