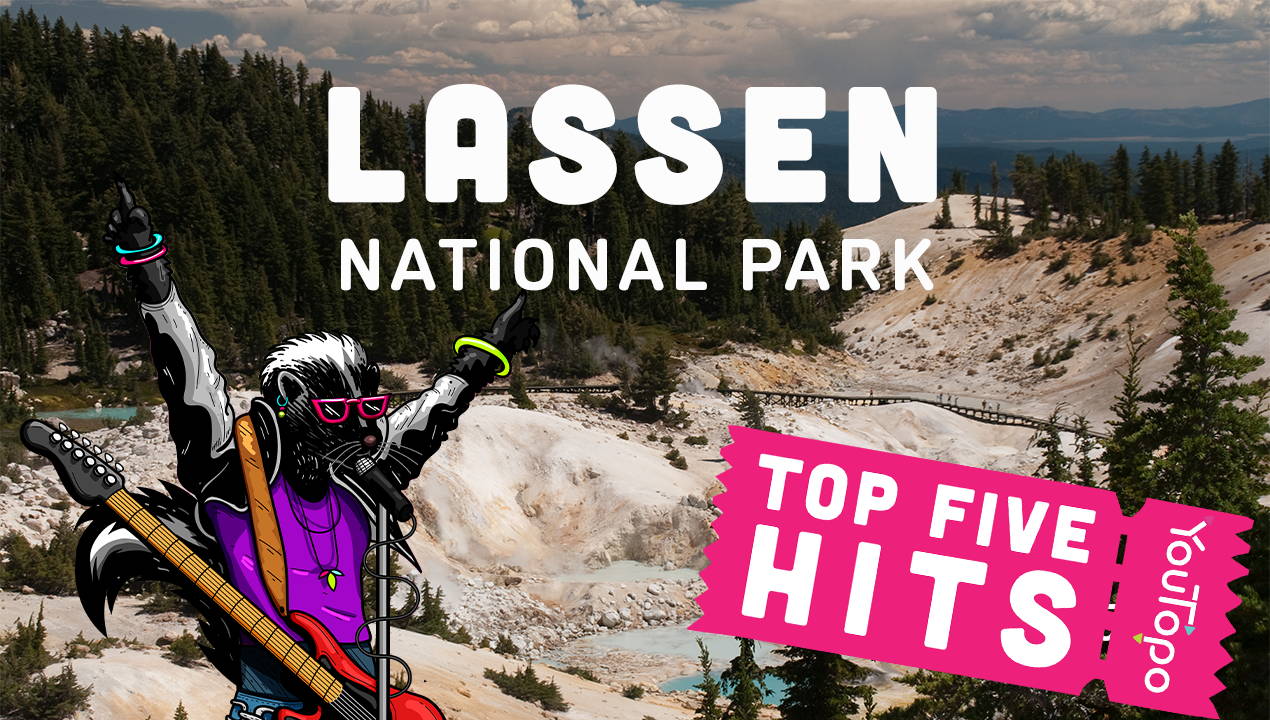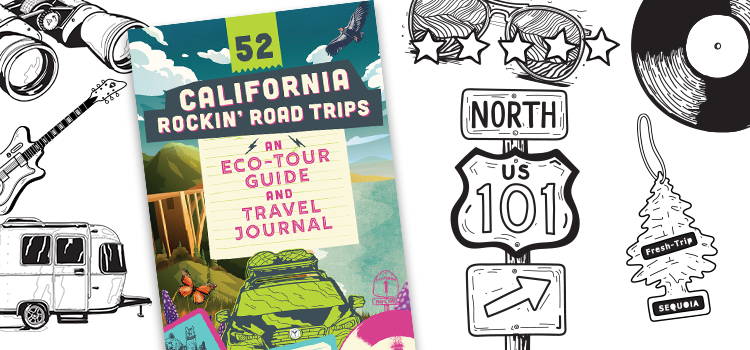 It's like Stairway to Heaven for people who love travel, art, nature, music, and getting outside for sweet adventures. Not much is better than an epic roadtrip and we've got just the ticket to get you ready.

---
Top 5 Hits for Family Adventures
Hike the Bumpass Hell trail, 2.7 miles out and back (check if it's open before going)

Explore the waterfalls of Kings Creek, 2.3 miles out and back

See fumaroles and mud pots at Sulphur Works, located right next to the parking lot.

Hike through lush meadows and forest to Devils Kitchen, 4.2 mile out and back

Experience a volcano crater at the Cinder Cone trail, 1.5 miles with 850 ft elevation gain
Season: July -October/ summer-early fall
Difficulty: easy to moderate hikes
Time Needed: 2-3 days
Cost: NP Pass or about $10

If possible, break up your trip into three different days for the three different sections of the park.

(Cinder Cone/Butte Lake area, Devils Kitchen Area, and Mt Lassen/ Bumpass Hell/ Kings creek Area

The roads to see Lassen Volcanic National Park are designed around the outside of the park. There is not a road inside Lassen with access to all parts of the park.

The Bumpass Hell area does not open until all the snow melts from the trail, which can take until early July.

Call to check status at 530-595-4480.

Camp as close to the park as possible. The drives to the different areas of the park can be long (one to two hours).

Restrooms for Devils Kitchen are located at the camping area further up the road on the right hand side.

The most visited area of the park is the Mt Lassen/ Bumpass Hell/ Kings creek Area

After seeing Kings Creek Falls follow the trail up river to see the Cascades Waterfall section just above the main falls.
Lassen Volcanic National Park has a diverse landscape of boiling springs, steaming fumaroles, mud pots, clear mountain lakes, waterfalls, lush meadows and volcanoes. Unknown to many, It has the second largest hydrothermal area in the USA, called Bumpass Hell. Bumpass Hell has boiling springs, bubbling mud pots, hissing steam vents, and roaring fumaroles, all of which can be admired from safe, man-made boardwalks.
Lassen was the 15th National Park formed in the USA. It is one of the least visited National Parks and remains a hidden gem in Northern California. The park has all four different types of volcanoes: a plug dome (Lassen Peak), a cinder cone (Cinder Cone), a composite volcano (Brokeoff Volcano), and a shield volcano (Prospect Peak). Mount Lassen is the southernmost active volcano in the Cascade Range. It had its last major eruption in 1914 and smaller eruptions through 1917. Rocks and boulders were thrown over 3.7 miles away from the volcanic eruption. Three days after the eruption, Benjamin Franklin Loomis took photographs that brought national attention to Mount Lassen and helped to bring about the establishment of Lassen Volcanic National Park. You can go and see this eruption site, known as the Devastated Area.
---
Color & Discover Coloring Book Collection
These are so much more than your average coloring book. Each page includes detailed hand drawn illustrations of landscapes, plants, and animals. They're also full of fun facts so that you can learn about everything you color. Great for adults and kids that love to geek out on nature or just relax doing something fun.