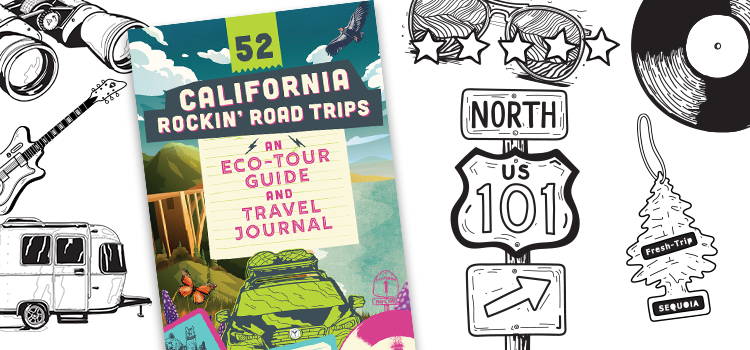 It's like Stairway to Heaven for people who love travel, art, nature, music, and getting outside for sweet adventures. Not much is better than an epic roadtrip and we've got just the ticket to get you ready.

---
Top 5 Hits for Family Adventures
Hike from Horseshoe Lake to Mcleod Lake 1.4 miles out and back, or 1.8 miles including the loop around the lake.

Bike or Hike Horseshoe Lake Loop, 1.2 mile loop

View and observe the 100 acres of tree kill from CO2 leaking out of the earth at Horseshoe Lake

Stop at Twin lakes to view Twin falls and have a picnic

Bike from Horseshoe Lake back down to Mammoth Lakes Basin Trolley on the Lakes Basin Path. 5.2 miles
Season: Summer

Difficulty: Easy-Moderate, mostly downhill bike path

Time Needed: Day Trip

Cost: Free

There are free ranger led hikes to McLeod Lake. Check the Mammoth Lakes Visitor Center for times.

Take the FREE trolley from Mammoth Lakes up to Horseshoe Lake, this trolley also takes bikes!

Rent a bike or take your bike on the trolley up to Horseshoe lake. The bike ride back to Mammoth Lakes is mostly downhill and spectacular. Small kids can do it.

Bike rental places will not let you put their bikes in your truck, you will need to ride them to the shuttle.

The Horseshoe Lake Loop is a beginner mountain bike trail. Great for kids.

When you are biking down from Horseshoe Lake to Mammoth, stop and see the top of Twin Falls Next to Lake Mamie then stop again next to the first twin lake and see the falls from the bottom.

If you want to do even more Mountain biking, Mammoth Mountain has a large Mountain bike Park for all skill levels. This is not free.

There is no parking at the Trolley. You will need to find parking then walk there or bike from the bike rental shops.

Some Parking is located at Lakes Bike Path Trailhead on the corner of Minaret Road and Lake Mary Road.
The town of Mammoth Lakes is a town of adventure. In the winter, skiers race down the snowy slopes of the local resort. Summer visitors explore the many miles of trails nearby on mountain bikes and by foot. Climbers tackle harrowing pitches on both rock and ice. Though the name may lead you to believe it is the home of prehistoric fossils, Mammoth Lakes was actually named after the Mammoth Mining Company, which drew the first European settlers here during the area's 1878 gold rush.
Overlooking all of Mammoth's activities is the beautiful Mammoth Mountain volcano, reminding us that everything in sight rests precariously close to active faults and craters. You can get a fantastic volcano view while hiking from Horseshoe Lake to McLeod Lake. This trail is short, but it presents lots of opportunities for learning and fun. It follows the McLeod Fault (a fracture in the earth's crust). Active faults, which are common in Central California, are faults in which the pieces of crust around them are still moving and causing geological activity.
Near the start of the trail, you will see a number of dead trees. What do you think might have killed these trees? Was it fire, bugs, or humans? Or was it something else entirely? Complete this section to learn the mysteries of Horseshoe Lake.
---