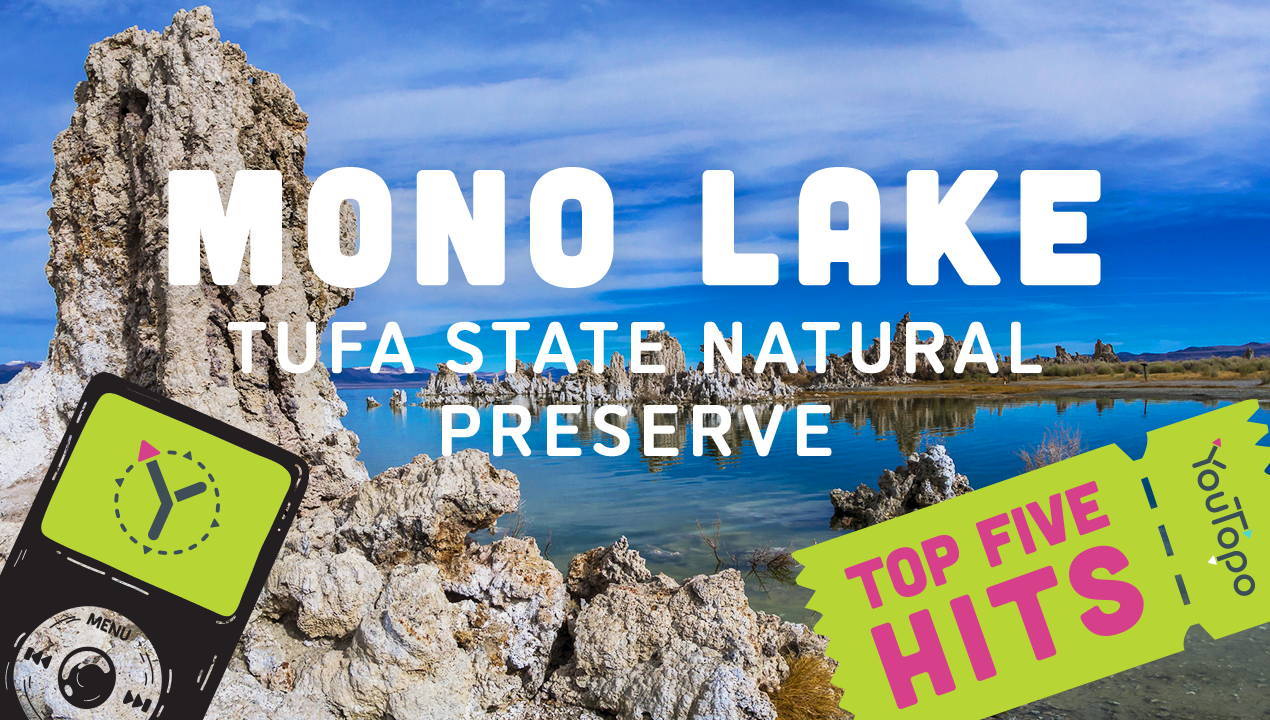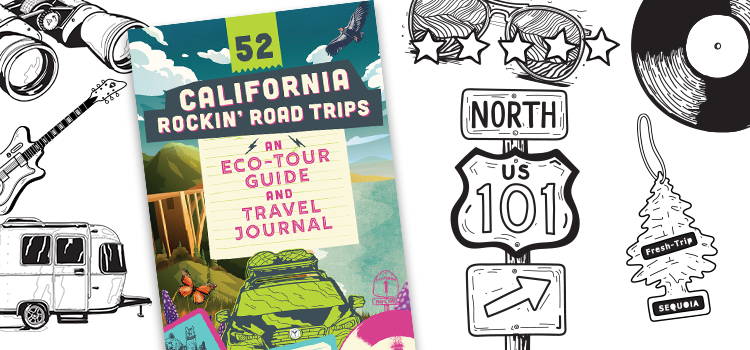 It's like Stairway to Heaven for people who love travel, art, nature, music, and getting outside for sweet adventures. Not much is better than an epic roadtrip and we've got just the ticket to get you ready.

---
Top 5 Hits for Family Adventures
Walk the boardwalk ADA trail to the Tufas, .8 mile round trip or loop walk

Float/swim in the lake

Kayak around the tufa towers

Look for osprey nests on the tufas and brine shrimp in the water.

Hike the Panum Crater
Season: March - October

Difficulty: Easy

Time Needed: Half Day Trip

Cost: $3 parking

The water is 2.5 times more salty than the ocean. It's too salty for fish to live here but if you look closely in the water there are a lot of brine shrimp.

You can get in the water and swim or float at South Tufa.

Bring extra fresh water to rinse yourselves off afterwards if you plan to swim. The salt left on your skin will look scaly and can be uncomfortable.

Don't drink the water or put it in your mouth. It's really salty and will make kids cry.

Bring your own paddle boards and kayaks. Local companies do kayak tours only. No rentals.

Don't go within 100 feet of the tufas on your kayaks and boards, this is to protect them and the Osprey that nest there.

There are several small trails to walk around the tufas, explore and find hidden coves and beaches.

There is a small brown street sign that says Panum Crater at the road to Panum Crater. (The sign is low to the ground and as high as the surrounding sage brush, so drive slowly to see the sign, it will be a dirt road.) The dirt road is fairly straight so if you are going on a windy road you are on the wrong road.

Don't collect obsidian or pumice on the Pumice crater hike. It's everywhere along the crater, let's keep it this way for future visitors.

The Mono basin visitor Center is located just north of Lee Vining.
When you see Mono Lake, you might not be surprised that scientists have come here to study how life might have developed on alien planets. The water here is highly alkaline, meaning it's somewhat like a strange, liquid soap, and curious shapes rise from it. These mysterious, crumbling pillars of white rock are called tufa towers. Mono Lake is full of carbonates (substances a bit like baking powder), and underwater springs carry calcium from below ground up into the lake. Carbonates and calcium produce a chemical reaction when combined, creating limestone. Over time, the limestone created at the spring openings built up higher and higher, eventually forming a tufa tower up to 30 feet tall.
Mono Lake has been forming over almost a million years, and it's filled with more than just carbonates. Water can enter Mono Lake, but there is no way for it to leave. The only way out is through evaporation, and when water evaporates, it leaves behind all of the salts and minerals it had been carrying with it. Through many millennia, evaporation caused these salts and minerals to build up inside Mono Lake, making the water here 2.5 times as salty as the ocean. The hardy species that call this place home, though, don't mind. Alkali flies, for example, spend most of their lives underwater. Brine shrimp also thrive here and provide food for millions of migratory birds.
When you visit Mono Lake, you'll also discover another fun trait this lake has. Like the Dead Sea in Jordan, the water at Mono Lake supports your body, helping you float naturally. In this chapter, you'll learn about the science that makes this--and other aquatic properties--possible.
---
Color & Discover Coloring Book Collection
These are so much more than your average coloring book. Each page includes detailed hand drawn illustrations of landscapes, plants, and animals. They're also full of fun facts so that you can learn about everything you color. Great for adults and kids that love to geek out on nature or just relax doing something fun.