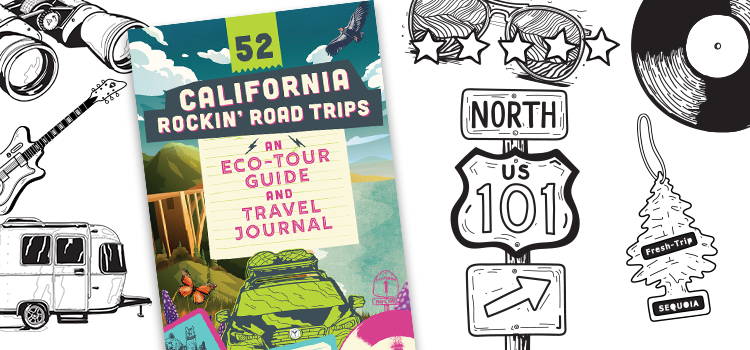 It's like Stairway to Heaven for people who love travel, art, nature, music, and getting outside for sweet adventures. Not much is better than an epic roadtrip and we've got just the ticket to get you ready.

---
Top 5 Hits for Family Adventures
Hike to Hazard Reef and explore the tidepools, .9 mile round trip

Hike the Bluffs trail along the cliffs to see crazy rugged cliffs, 1-4 miles or as long as you want to walk.

Walk the path through the Native Plant Garden by the visitor center

Relax and picnic at the Beach at Spooners Cove

Explore more tidepools at Corallina Cove.
Season: good year round, best time to visit is in the spring when plants are blooming and at low tide

Difficulty: Easy

Time Needed: Day Trip

Cost: $10 day fee or CA State Parks Pass

Check out all the overlooks on the bluff trail, the rock cliff outcroppings are unique with their ancient sea floor rock layers (Miguelito Shale) sticking out at different angles.

Tread lightly at tidepools, only touch the animals as hard as you would touch your eyeball.

This state park has been preserved in its plant and wildlife habitats. Native plants flourish here and give this park its beauty. One plant that you will see that is not native is the Eucalyptus Tree from Australia which was planted for timber. Eucalyptus grows quickly but the need for timber was never high enough for it to be profitable, so it has been left to grow across the california Coast as an invasive species.

The native garden is a must see. It is well maintained and has a large variety of full grown and unique native plants.

Check out the Spooner Ranch house. It lets you see what life was like and
      it's still furnished like it was in the early 1900s
If you only have time for one tidepool area go to Hazard Reef, the tidepools here are the best in the area.

You need to hike along the bluff trail to get to Corallina Cove
---
Peace and solitude, magnificent scenery, rugged cliffs, and pristine beaches can all be found inside Montana De Oro State Park. The name translates to "Mountain of Gold," which is a reflection of the beautifully colored wildflowers that blanket the Park each spring. There are so many fun things to do here - whether hiking, mountain biking, exploring tidepools, riding horses, camping, wildlife watching for black tailed deer or black oystercatchers, or exploring the stretches of beach - it's a trip of a lifetime!
The amazing surroundings were created over millions of years by volcanic activity and the subduction and collision of the earth's tectonic plates. The dynamic landscape continues to be changed by the forces of erosion, additions of sediment carried by wind and water (called deposition), and ongoing tectonic plate movement. The area's soil and climate support an array of native plants. Morro manzanita chaparral occurs in two distinct dense stands within Montana De Oro State Park, mixed with other native plants like chamise, wedge-leaved ceanothus, and coast live oak. Morro manzanita is a long-lived shrub that is endemic to this area of California. These stands can grow so thick that it is difficult to walk through! The thick mats help break up the impacts of rainfall on the soil and distribute water more evenly. Chaparral and coastal scrub plants have evolved an extensive root system underground, which helps them cope with harsh environmental conditions like hot sun and periods of little rainfall, making them excellent for erosion control. These native plants stabilize soils and maintain natural communities over the long term. This also creates an environment for mushrooms, bryophytes, and lichens to grow, and provides cover for wildlife. There are endless things to see here!
---
Color & Discover Coloring Book Collection
These are so much more than your average coloring book. Each page includes detailed hand drawn illustrations of landscapes, plants, and animals. They're also full of fun facts so that you can learn about everything you color. Great for adults and kids that love to geek out on nature or just relax doing something fun.