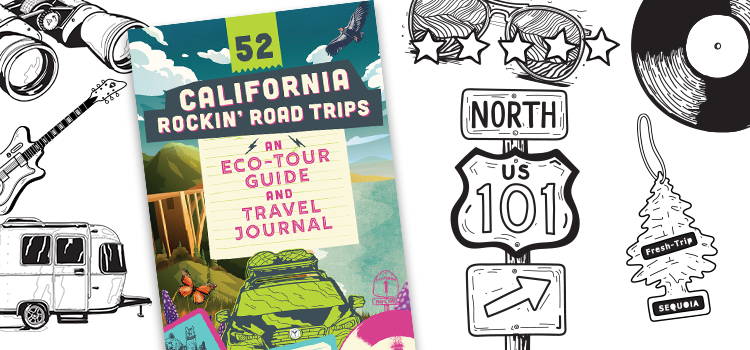 It's like Stairway to Heaven for people who love travel, art, nature, music, and getting outside for sweet adventures. Not much is better than an epic roadtrip and we've got just the ticket to get you ready.

---
Top 5 Hits for Family Adventures
Ride the Palm Springs Aerial Tram.

Play in the snow.

Sled or tube down the hills.

Get hot chocolate at Mountain Station to warm up after snow play.

Take in the view of the valley below and of the giant gears that pull up the tram!
Season: Year round, Spring-Fall hiking, Winter- Snow play

Difficulty: Easy

Time Needed: Day trip

Cost: Adults $26.95, children age 3-10 $16.95, age 2 and under FREE

If you visit in winter, wear a coat, a scarf, a beanie and gloves. (dress for the snow).

The snow here can be icy; be careful not to slip.

Bring a thick sled or boogie board for the snow.

There is snow equipment rental, but it is not always open. Call ahead or bring your own.

Check the weather report before going--call the

Long Valley Ranger Station at

(760) 327-0222 or check the bottom of the page at

https://pstramway.com/

 
---
Mount San Jacinto State Park is the highest state park in California, at up to 10,804 feet above sea level! It was once used by native Cahuilla peoples, followed by European settlers, as seasonal hunting grounds for deer and gathering resources. In time, loggers came into the area, cutting down trees and introducing sheep and cattle that began to strip the meadows and hillsides.
In 1897, the San Jacinto Forest Reserve was created by President Grover Cleveland to stop the logging and land destruction. This beautiful high country is now part of the state parks system and has been made easily accessible by either driving on HWY 243 or taking the 10 to 15-minute Palm Spring Aerial Tram ride to the top. The aerial tram is one of the longest single-lift tramways in the world and carries visitors 2.5 miles up to Mountain Station in Mount San Jacinto State Park (at 8,516 feet in elevation).  
Mount San Jacinto State park is a unique place to escape the desert heat of the valley below. In the winter, when the Coachella Valley is still experiencing hot days, Mount San Jacinto has snow! There are only a few such places in Southern California. Spring through autumn in the state park offers many miles of hiking.
Year round, you will see fantastic views of the valley below. Looking down at the valley, your children might ask, "Why is there snow up here when it's so hot down in the valley? Shouldn't it be hotter up here since it's closer to the sun?" Mount Jacinto gives you a great opportunity to discover why it's not hotter at the top of a mountain by learning the secret of air pressure.
---
Color & Discover Coloring Book Collection
These are so much more than your average coloring book. Each page includes detailed hand drawn illustrations of landscapes, plants, and animals. They're also full of fun facts so that you can learn about everything you color. Great for adults and kids that love to geek out on nature or just relax doing something fun.