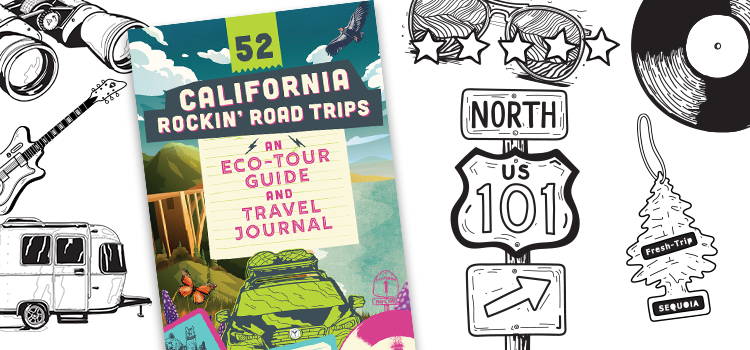 It's like Stairway to Heaven for people who love travel, art, nature, music, and getting outside for sweet adventures. Not much is better than an epic roadtrip and we've got just the ticket to get you ready.

---
Top 5 Hits for Family Adventures
Walk the south boardwalk and check out the elephant seals

Watch the elephant seals interact with each other, especially the bulls

Picnic at William Randolph Hearst Memorial Beach

Walk down to the beach at William Randolph Hearst Memorial Beach and relax.

Hike to Piedras Blancas Light Station, 3.2 miles round trip, and take a free docent led tour
Season: Best times to visit; Jan -Feb birthing and breeding season, April-May molting season

Difficulty: Easy, ADA accessible boardwalk

Time Needed: 1-3 hours

Cost: Free

Stop and use the restrooms at William Randolph Hearst Memorial Beach before you go see the elephant seals. These are the nearest restrooms to the seal viewing area.

Elephant seals can be seen here almost year round but are most abundant on the beach during the winter mating/ birthing season and the spring molting season.

Bring snacks and jackets, it can get windy. Be prepared to stay a while to watch the seals.

Talk to the docents at the viewing area, they are knowledgeable and can tell you all about what you will be seeing, they will point out new babies, bulls and answer all your questions.

The docents are all volunteers that donate their time to teach you about the seals, treat them with kindness and respect. They do this because they love the elephant seals.

Hearst Castle is also close to the rookery.
---
Is it an elephant – is it a seal – or something totally different? You'll have to see for yourself at the Piedras Blancas Rookery in San Simeon, California: the only free, publicly accessible elephant seal sanctuary. Although elephant seals visit this area year-round, their numbers are greatest during January, April, and October. By January, males (called bulls) have arrived and are fighting for mating rights amongst each other. Females soon arrive and the breeding season continues into the late winter months, when the adults return to sea. Many return in April for molting, shedding their hair and outermost layer of skin.
These marine mammals are true seals. Bulls may reach enormous sizes, measuring 16 feet in length and weighing 5,000 pounds. They make many loud vocalizations using their mouth and large nose. Observers listen carefully for the characteristic barking of elephant seals when visiting San Simeon. The seals are clumsy on land and move around by flopping on their belly. The elephant seals spend most of their lives in the ocean where they dive deep in pursuit of squid and fish, with adaptations that allow them to dive deeper than a mile and stay underwater for up to two hours! One such adaptation is large amounts of blood that is rich in hemoglobin – the molecule that carries oxygen through the bloodstream. Elephant seals were hunted nearly to extinction for their oil-rich blubber, which was used for lamp oil and lubrication. By 1900, the northern elephant seal was presumed extinct and the United States soon granted them protection. Males again began appearing on California's coast in 1965, and the first pup born since protections were enacted was documented here in 1975. Being able to witness this robust, lively community in San Simeon is a truly moving experience.
---
Color & Discover Coloring Book Collection
These are so much more than your average coloring book. Each page includes detailed hand drawn illustrations of landscapes, plants, and animals. They're also full of fun facts so that you can learn about everything you color. Great for adults and kids that love to geek out on nature or just relax doing something fun.