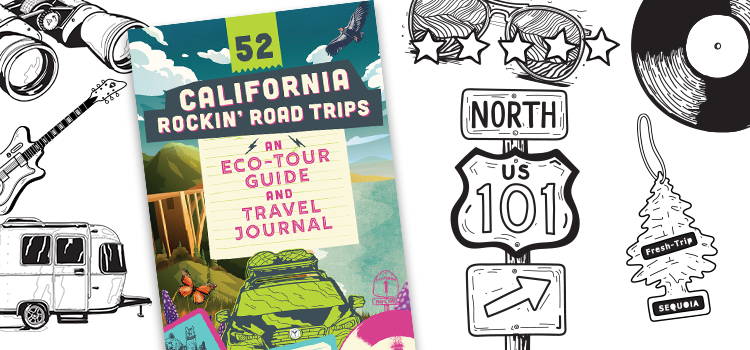 It's like Stairway to Heaven for people who love travel, art, nature, music, and getting outside for sweet adventures. Not much is better than an epic roadtrip and we've got just the ticket to get you ready.

---
Top 5 Hits for Family Adventures
Stop and walk a poppy field outside the reserve.

Hike .5 miles to Tehachapi Vista point for a good view of the blooms.

Claim a bench and sketch the different flowers. Observe and make notes.

Take lots of pictures.

Afterwards, visit the less windy Arthur B. Ripley Desert Woodland State Park, seven miles west, to make the most of your trip and entrance fee.
Season: Mid-February-May

Difficulty: Easy, walking trails with small rolling hills

Time Needed: Half day

The reserve entrance fee can be used for any other state park that day with the same or lower price.

Drive carefully--cars stop suddenly to pull over to see fields of poppies and wildflowers on the way to the preserve.

Don't pick the poppies or other flowers! It's illegal to pick them on state land.

Don't go off the trails in the reserve; the flowers are fragile and are home to snakes and other animals.

Go early in the morning to see the most flowers in full bloom and to beat the wind (which picks up as the day goes on). Bring a jacket.

There is no shade, so bring lots of water and sunscreen.

Parking fills up fast; go early in the day.
---
The Antelope Poppy Reserve harbors the most consistent blooms of California's bright orange state flower, the California poppy, in the state. These bright orange poppies, which bloom from mid-February to mid-May, open during the day and close at night. They grow about 12-14 inches high forming rolling carpets of bright orange flowers across the reserve. Once they bloom, pollinators such as bees and beetles are necessary to pollinate these poppies so they can produce seeds for the next year's bloom.
It is illegal to pick a poppy on state land and city property (such as schools, parks, and medians). California poppies also wilt quickly after they are picked, so they do not make for good decorations in vases. Most importantly, the poppies in the Antelope Poppy Reserve need to stay in the reserve because each year, new plants grow from the seeds produced from the past year's flowers.
The California poppy can be found in California, Mexico, and across the western United States. Its seeds are used by people across the world as a medicine for anxiety, pain, toothaches, and headaches. Poppy seeds have other uses as well. They are added to foods such as cakes, porridge and pastries. They can also be used to make soap, paint, and varnish.
Visiting the Reserve, you have the opportunity to see the California poppy at its finest. Benches are placed along the eight miles of trails so you can relax, meditate, or just observe the peace and tranquility of the reserve.
---
Color & Discover Coloring Book Collection
These are so much more than your average coloring book. Each page includes detailed hand drawn illustrations of landscapes, plants, and animals. They're also full of fun facts so that you can learn about everything you color. Great for adults and kids that love to geek out on nature or just relax doing something fun.