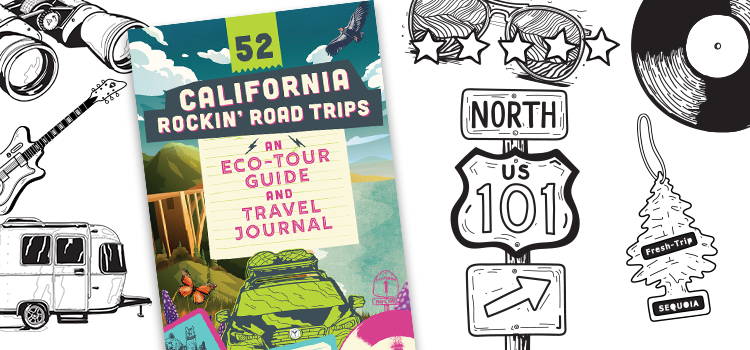 It's like Stairway to Heaven for people who love travel, art, nature, music, and getting outside for sweet adventures. Not much is better than an epic roadtrip and we've got just the ticket to get you ready.

---
Top 5 Hits for Family Adventures
See the fishbone sand at Salton Sea Recreation Area.

Walk among the art structures at Bombay Beach.

Walk around Salvation Mountain.

Hike the Sonny Bono Wildlife Refuge Rock Hill Butte (a small volcano) and duck ponds.

Go birding. Watch out for burrowing owls peeking out of artificial burrows and pipes at the Sonny Bono Wildlife Refuge.
Season:

Best time is October through May when it's not so hot

Difficulty:

Easy, short walks

Time Needed:

Day Trip

Cost:

$7- Salton Sea Recreation Area parking or CA State Parks Pass, FREE- Sonny Bono

Salton Sea National Wildlife Refuge Complex, FREE- Salvation Mountain

Bring lots of water.

Prepare to drive. It takes about 20 minutes getting from place to place.

Bring enough food for the day, there are no food locations on the route.

Explore with an open mind, ready to see a different world.

The Sonny Bono Nature preserve is one of the better places for birding, including the burrowing owl. Look at all the metal and plastic pipes near ditches and roads. Many pipes have been purposely placed as homes for the owls.

Binoculars are a must for viewing birds; keep a close eye to see other wildlife like coyotes and bobcats near the birds.

Contact the Sonny Bono Preserve to go on a free guided hike:

(760) 348-5278

All the power plants you will see are geothermal power plants, meaning they produce clean, renewable energy from steam built up in the earth.

Salvation Mountain is great for kids to walk around.
The Salton Sea was formed in 1905, when silt blocked the path of the Imperial Canal along the Colorado river, causing it to change course. Water from the Colorado river flooded into the Salton Sea for two years until the Southern Pacific Railroad fixed the canal and diverted the river back to the Imperial Canal.
In the 1950's, many people visited the new Salton Sea for sport fishing and vacationing and considered it to be the Riviera of the Americas. Shore and seabirds were also attracted to the area. Without the flow of fresh water from the Colorado River, the Salton Sea became more salty and polluted over time. Vacationers left the area, leaving buildings abandoned. Water from agricultural runoff is now feeding the sea. From far away, the water looks deep blue, but up close the water is browning, with occasional dead fish and rotting vegetable matter. This combination results in algae blooms that can be quite smelly. As the salinity of the sea rose, many fish died, leaving only tilapia and desert pupfish in the sea. Thousands of sea birds still flock to the sea, making it an ideal place for birdwatching. If you look carefully at storm drains and plastic tubes near roads and ditches, you might even see a burrowing owl!
Many of the buildings surrounding the Salton Sea are still abandoned and are slowly being reclaimed by the salty winds. Locals of the Salton Sea have made sculptures and other works of art out of these buildings, which can be seen at Bombay Beach. Residents at Salvation Mountain and East Jesus have also reused what was considered trash to make many works of art. How different would this world be if we all could rethink what we call "waste?"
---
Color & Discover Coloring Book Collection
These are so much more than your average coloring book. Each page includes detailed hand drawn illustrations of landscapes, plants, and animals. They're also full of fun facts so that you can learn about everything you color. Great for adults and kids that love to geek out on nature or just relax doing something fun.