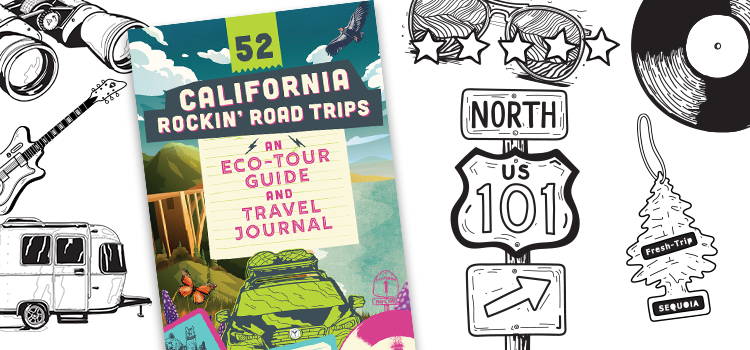 It's like Stairway to Heaven for people who love travel, art, nature, music, and getting outside for sweet adventures. Not much is better than an epic roadtrip and we've got just the ticket to get you ready.

---
Top 5 Hits for Family Adventures
Take the guided Shasta Caverns tour

Enjoy the boat ride across the McCloud Arm of Shasta Lake

Look for stalactites, stalagmites, little brown bats and cave bacon

Visit Shasta Dam, take a free tour, and take in the sites

Have a cave party, eat all the foods that the cave formations you saw were named after! (Bacon, popcorn, soda "soda straws, cauliflower etc.)
Season: Open Year Round

Difficulty: Easy-Moderate (lots of wet steps)

Time Needed: 2-3 hours

Cost: $19 children, $32 adults (2021)

Food and drinks are not allowed in the cave

Just getting to the cave is an adventure, a boat ride across the lake followed by a bus ride up a windy road up to the cave!

Take your time and encourage kids to ask a lot of questions to your guide

Tours of Shasta Dam are free and take one hour

Actively search for the cave formations with food names, turn it into a game to earn a cave party.

Buy cave party food ahead of time so you can celebrate your cave trip when you get home (Examples below in Fav 5, #5)

Ask your tour guide to help you find different cave formations
---
When you enter the Shasta Caverns, you are entering geological prehistory. Around the time dinosaurs first started roaming the supercontinent of Pangaea, this cave began to form. Limestone caverns like this one are created when rain combines with carbon dioxide in the atmosphere. This transforms the water into a weak acid. When this acidic rainwater finds its way into porous limestone (through groundwater or underground rivers), it gradually dissolves the rock. In some cases, it dissolves enough rock to create bigger holes, which after thousands of years can become caves. This same process, which will be explained more fully in our learning lesson, creates incredible formations such as stalactites (icicle-like rocks hanging from the cave ceiling), stalagmites (columns growing from the floor), hollow rock straws, and even curtains that look like bacon! In our learning activity, we'll be creating some of our very own cave formations.
If you find caves intriguing, you're not alone--caves have fascinated humans for thousands of years. Prehistoric people used caves for shelter and, in some places in the world, left beautiful and elaborate art inside of them. Members of the Wintu Tribe were likely aware of Shasta Caverns for centuries. Europeans discovered them in the late 1800s and used ropes, ladders, and lanterns to explore. Luckily, all you'll need for your cave expedition are your own two feet and a good sense of curiosity!
---
Color & Discover Coloring Book Collection
These are so much more than your average coloring book. Each page includes detailed hand drawn illustrations of landscapes, plants, and animals. They're also full of fun facts so that you can learn about everything you color. Great for adults and kids that love to geek out on nature or just relax doing something fun.